Description
Edit
Laura Marano is a American 17 year old Singer, Song writter, Actress. Who is fun, fashionable,loving, energetic, beautiful, smart, dorky, talented, goody goody, loves school and                                                                          
Laura Marano

Vital statistics

Position
Plays Ally Dawson in "Austin and Ally"
Age
17
Status
Singer, Actress, Song writter

Physical attributes

Height
5 feet 2 inches
Weight
Unknown
teachers. Laura Marano is always in an upbeat happy way and always likes to brighten up the day whether its by compliments or corny jokes. She is an actress in the Hit Disney channel Tv show "Austin and Ally". Laura plays the role of Ally in Austin and Allly and has a very close friendship with the cast especially, her co-workers, Ross Lynch, Raini Rodriguez, and Calum Worthy. Laura is mostly seen with her close friend/co worker Ross Lynch during meet and greets. They also went to Australia together so fans suspect that Ross and Laura are dating. But many times, Ross and Laura have denied it. Many people ship Ross and Laura aka Raura ( their ship name ) and hope one day they will officially be together.  
Biography
Edit
Lauera Marano is the daughter of college professor Damiano Marano and former actress Ellen Marano.Laura Marano's first acting role was when she was five years old. Since then, she worked for a lot of productions at the Stage Door Theater. She appeared in many commercials and has small roles on Ghost
Whisperer, Medical Investigation, Huff and Joan of Arcadia. Her bigger roles in television have been in Without a Trace and other shows. She has also been heard in the animated movies Finding Nemo and Ice Age: The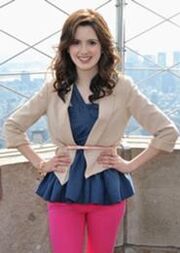 Meltdown. She played child role of Keira Knightley's character in the film The Jacket, and had a small flashback role in the film Superbad. She was a regular cast member on the FOX game show, Are You Smarter Than a 5th Grader? and played the role of Gracie Carr on FOX's sitcom Back to You.
Laura has since appeared in several episodes of The Sarah Silverman Program. Initially she was cast in the pilot episode, "Batteries", as the child version of Sarah Silverman, and the writers liked her so much they brought her back for a larger role as a girl Sarah coaches to win a beauty pageant ("Not Without My Daughter"). On the DVD commentary track, co-star Brian Posehnnotes that Laura knew everyone else's lines better than they did. She has also appeared in Dexter as the child version of Debra Morgan. She has also played the child version of a character played by Diana Scarwid, Alice Shaw, sister of Angela Petrelli, on Heroes. She currently plays "Ally Dawson" on the Disney Channel series Austin & Ally.
Laura Marano revealed that she doesn't go to school on the set of Disney Channel's "Austin & Ally". Instead, she attends a regular high school: "I go to an actual high school and my friends and everybody there have been so supportive It's nice when I'm not working to go to that school and be surrounded by really supportive friends." Laura Marano acts, sings, and writes songs and hopes to perform in stage musicals in the future.
Source:http://en.wikipedia.org/wiki/Laura_Marano
Filmography
Edit
Film

| Year | Title | Role | Notes |
| --- | --- | --- | --- |
| 2005 | The Jacket | Young Jackie | Supporting role |
| 2006 | Ice Age: The Meltdown | Various | Uncredited; Additional Voices |
| 2007 | Goldfish | Suzy | Short film |
| 2007 | Superbad | Young Becca | Supporting role |
| 2010 | Telepathic | Marsha | Television movie |
Television
Year
Title
Role
Notes
2003—2006
Without a Trace
Kate Malone
Recurring role; 8 episodes
2004
Joan of Arcadia
Emily
"Night without Stars" (Season 1, Episode 15)
2005
Medical Investigation
Brooke Beck
"Tribe" (Season 1, Episode 13)
2005
The X's
Scout (voice)
TV series
2006
Ghost Whisperer
Audrey
"Friendly Neighborhood Ghost" (Season 1, Episode 13)
2006
Huff
Amelia
"Black Shadows" (Season 2, Episode 12)
2006
Dexter
Young Debra
"Let's Give the Boy a Hand" (Season 1, Episode 4)

Episode: "Father Knows Best" (Season 1, Episode 9)

2007
Are You Smarter Than A Fifth Grader
Herself
Season 1
2007—2008
Back to You
Gracie Carr
"Pilot" (Season 1, Episode 1)

"First Supper" (Season 1, Episode 3) "Gracie's Bully" (Season 1, Episode 6) "Something's Up There" (Season 1, Episode 7) "Cradle to Grave" (Season 1, Episode 8)

2007—2010
Sarah Silverman Program
Young Sarah Silverman / Heather Silverman
Recurring role; 6 episodes
2008
Ni Hao, Kai-Lan
Mei Mei
Season 1
2008
Gary Unmarried
Louise Brooks
"Pilot" (Season 1, Episode 8)

"Gary Gets Boundaries" (Season 1, Episode 2)

2009
Heroes
Young Alice Shaw
"1961" (Season 3, Episode 23)
2009
Little Monk
Cousin Lauren
"Little Monk and the Monk Cousin" (Season 1, Episode 5)
2010
True Jackson, VP
Molly
"True Drama" (Season 2, Episode 4)

"Little Buddies" (Season 2, Episode 6)

2010
FlashForward
Young Tracy
"Blowback" (Season 1, Episode 13)
2010
Childrens Hospital
Haley
"Frankfurthers. Allman Brothers. Death, Frankfurters" (Season 2, Episode 7)
2011—present
Austin & Ally
Ally Dawson
Lead role; Disney Channel Original Series
2012
Jessie
Ally Dawson
"Austin & Jessie & Ally All Star New Year" (Season 2, Episode 6)
Source:http://en.wikipedia.org/wiki/Laura_Marano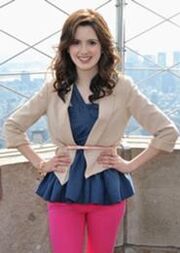 Ad blocker interference detected!
Wikia is a free-to-use site that makes money from advertising. We have a modified experience for viewers using ad blockers

Wikia is not accessible if you've made further modifications. Remove the custom ad blocker rule(s) and the page will load as expected.