"Timeless" was sung by Ross Lynch in also known as "Austin Moon" in "Future Sounds and Festival songs".
 Everyday-day-day,
I fall for you a little more-oh-ore,
And every night, night, night,
I dream of you so beautiful-uh-ul,
Yeah-eh,

And everytime we laugh,
I see the sparks flying,

 And everytime you blush,
I feel those butterflies,

Baby, how we feel,
We'll always be style,
Forever and ever,

 This love is never gonna fade,
We are Timeless,
We are Timeless,

My heart will never ever change,
We are Timeless,

 We are Timele-eh-yeah-yeah-ess,
And we're gonna la-yeah-yeah-ast,

Our love will always feel this waaaaay,
We are Timele-eh-yeah-ess,
We are Timele-eh-yeah-ess!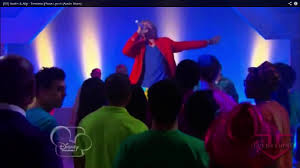 Ad blocker interference detected!
Wikia is a free-to-use site that makes money from advertising. We have a modified experience for viewers using ad blockers

Wikia is not accessible if you've made further modifications. Remove the custom ad blocker rule(s) and the page will load as expected.